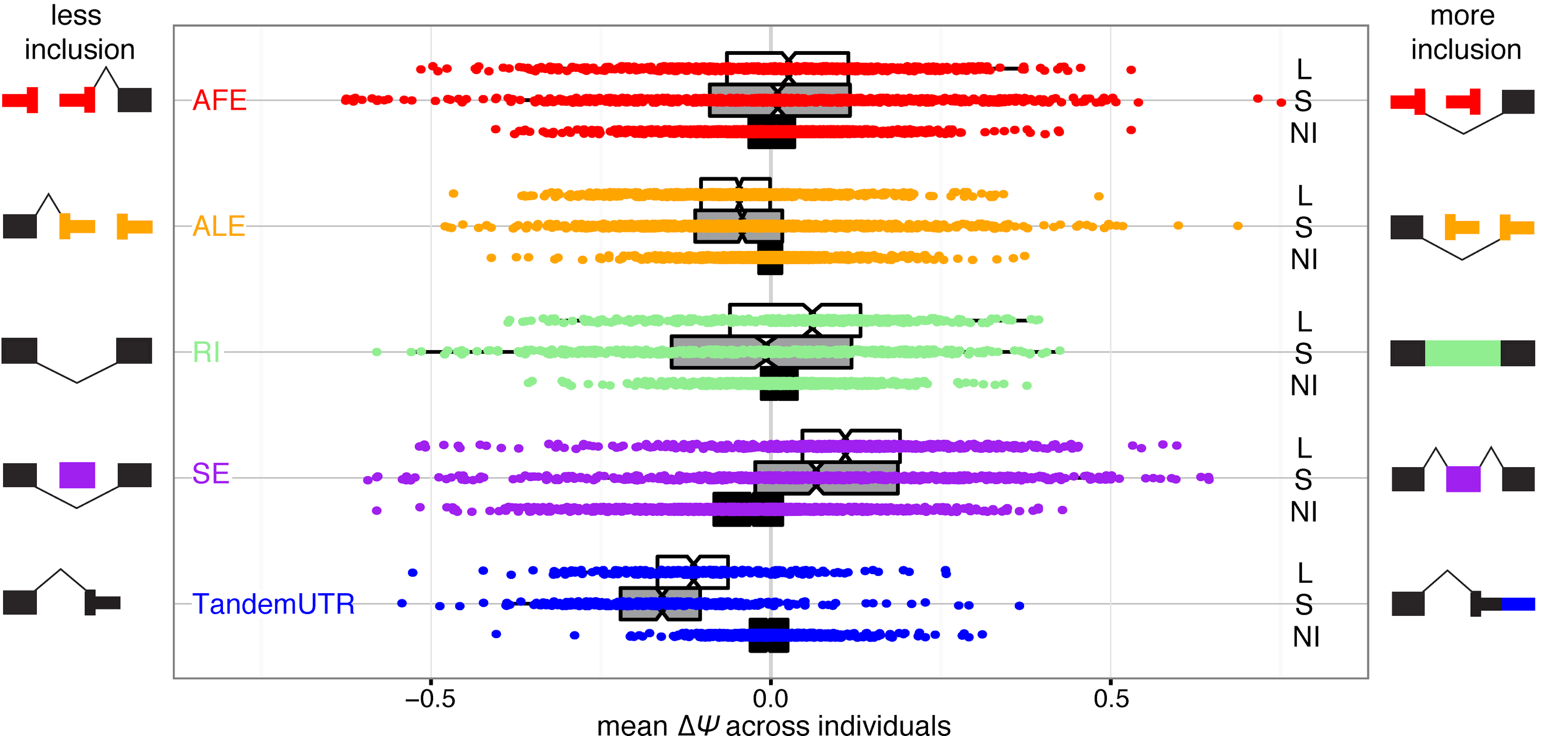 Changes in gene regulation have long been known to play an important role in any cellular response, with many previous studies extensively characterizing transcriptional response pathways. However, post-transcriptional mechanisms, especially those involved in mRNA process and alternative splicing, remain understudied despite gaining prominence as crucial regulators of cellular defense systems.
In collaboration with Luis Barreiro's lab at the University of Montreal, we have been studying the dynamics of transcriptional and post-transcriptional regulation in response to infection by naturally occuring pathogens (Listeria monocytogenes and Salmonella typhimeurium), with a particular focus on investigating the role of mRNA processing during cellular reponses. In an initial study[1], we discovered thousands of changes in isoform usage following infection. Immune response was characterized by specific changes in mRNA splicing and polyadenylation site choice, with global shifts towards increased inclusion of cassette exons and a widespread usage of upstream polyadenylation sites in genes upregulated after infection. Favoring shorter 3' UTRs after infection likely allows immune-relevant transcripts to escape repression by miRNAs activated in response to infection. We are continuing work on the mechanisms of mRNA processing dynamics during the immune response and mapping genetic loci that influence inter-individual differences in immune response through mRNA processing pathways.
For a broader perspective on the dynamics of mRNA processing, we investigated mRNA processing changes across a panel of cellular responses to environmental and drug stimulii in collaboration with the labs of Francesca Luca and Roger Pique-Regi at Wayne State University[2]. Simular to immune response, we see clear signatures of directed shifts in particularly RNA processing mechanisms, in a stimulus-dependent manner. Combined with functional genomic data and knowledge of regulated pathways, we are able to identify trans-acting factors that influence RNA isoform usage, particularly for alternative transcription start sites. Overall, our work clearly demonstrates the ubiquity of post-transcriptional mRNA changes related to gene expression response to the environment, including for key functions like the innate immune response and drug response.
[1] (view) Widespread Shortening of 3' Untranslated Regions and Increased Exon Inclusion Are Evolutionarily Conserved Features of Innate Immune Responses to Infection. Pai AA, Baharian G, Sabourin A, Brinkworth JF, Nédélec Y, Foley JW, Grenier J, Siddle KJ, Dumaine A, Yotova V, Johnson ZP, Lanford RE, Burge CB, Barreiro LB. PLOS Genetics 2016, 12(9), e1006338
[2] (view) Environmental perturbations lead to extensive directional shifts in RNA processing. Richards AL, Watza D, Findley A, Alazizi A, Wen X, Pai AA, Pique-Regi R, Luca F. PLOS Genetics 2017, 13(10), e1006995